Curriculum Intent

A Maths curriculum that is ambitious for all students 

•Aiming for all students to start the higher tier GCSE

•Foundation students have option of trying higher tier until April of year 11

•Challenging schemes throughout with extension materials

•Option to sit the Further Maths GCSE in year 11

 

A curriculum that is coherently planned and sequenced

•Expert resources have been used to plan the overall scheme

•Clear plans at year, topic and lesson level for all year groups

•Reviewed at least yearly to check ordering and content

 A curriculum that is successfully adapted, designed and developed for students with special educational needs and/or disabilities

•Setting and differentiation of materials 

•Learning Support Assistants aid in teaching and learning where possible

 A curriculum that is broad and balanced for all students

•All main sections are covered throughout and revisited.

•All students see grade 5+ work throughout. No knowledge is excluded from lower attaining students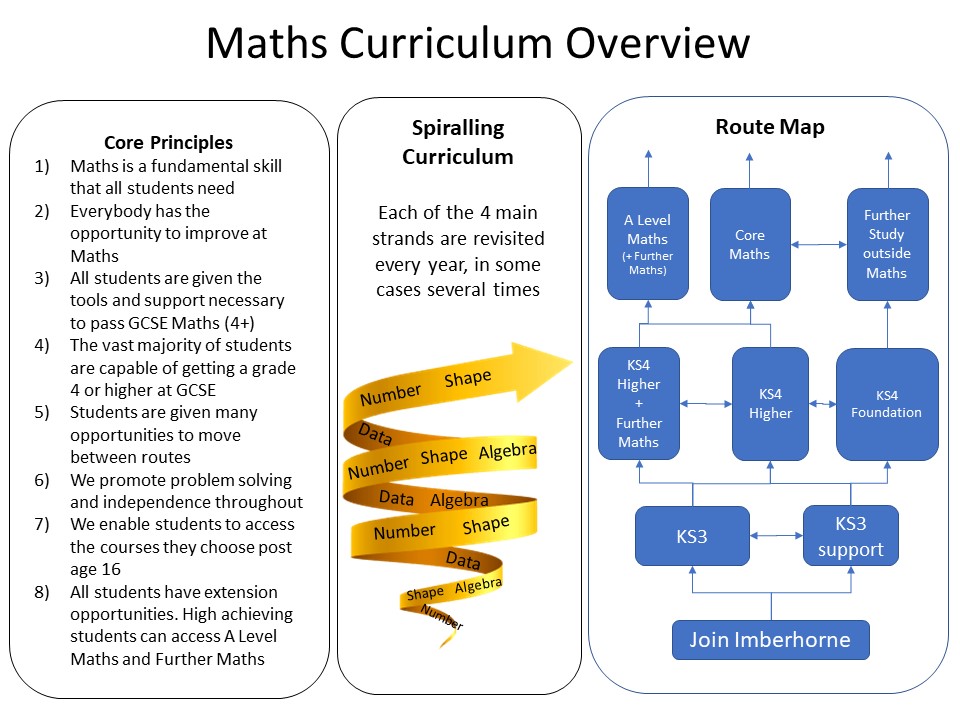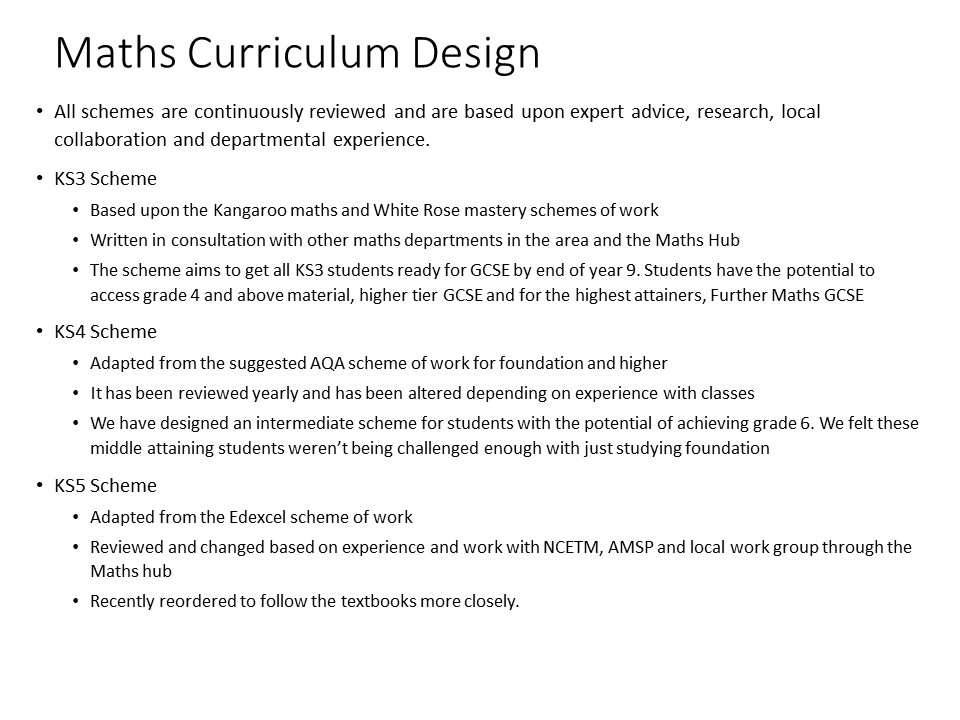 Staff Information
Name
Position / Responsibility
E-Mail
Mr I Andrews
Leader of Learning for Maths

iandrews

[at] imberhorne

[dot]

co

[dot]

uk
Miss K Dewar
Deputy for Maths & KS3 Leader

kdewar

[at] imberhorne

[dot]

co

[dot]

uk
Mr S Kay
KS4 Leader of Maths

skay

[at] imberhorne

[dot]

co

[dot]

uk
Mr A Ibrahim
KS5 Leader of Maths

aibrahim

[at] imberhorne

[dot]

co

[dot]

uk
Mrs M Larsson
Maths Teacher & KS2-3 Transition Leader

mlarsson

[at] imberhorne

[dot]

co

[dot]

uk
Mr M Jones
Maths Teacher & Assistant Headteacher

mjones

[at] imberhorne

[dot]

co

[dot]

uk
Mrs S Latchman
Maths Teacher & High Achieving Student Coordinator

slatchman

[at] imberhorne

[dot]

co

[dot]

uk
Mr M Cresswell
Maths Teacher and Student Voice Leader

mcresswell

[at] imberhorne

[dot]

co

[dot]

uk
Mrs J Walker
Maths Teacher

jwalker

[at] imberhorne

[dot]

co

[dot]

uk
Mrs C Peadon
Maths Teacher

cpeadon

[at] imberhorne

[dot]

co

[dot]

uk
Mrs R Burns
Maths Teacher

rburns

[at] imberhorne

[dot]

co

[dot]

uk
Mrs B Browning
Maths Teacher

bbrowning

[at] imberhorne

[dot]

co

[dot]

uk
Mr C Sullivan
Maths and Computing Teacher

csullivan

[at] imberhorne

[dot]

co

[dot]

uk
Mrs J Maartens
Maths Teacher

jmaartens

[at] imberhorne

[dot]

co

[dot]

uk
FAQs
This should be written in Maths exercise books. If you still can't find it, email your maths teacher. You can also reset your HegartyMaths password from their website.
We recommend the Casio Fx-83 GT or similar with the natural display.
Pen, pencil, ruler, pair of compasses, 180° protractor. Students can buy these from the school library.
Please contact your child's maths teacher by email in the first instance, then the Key Stage Coordinator.