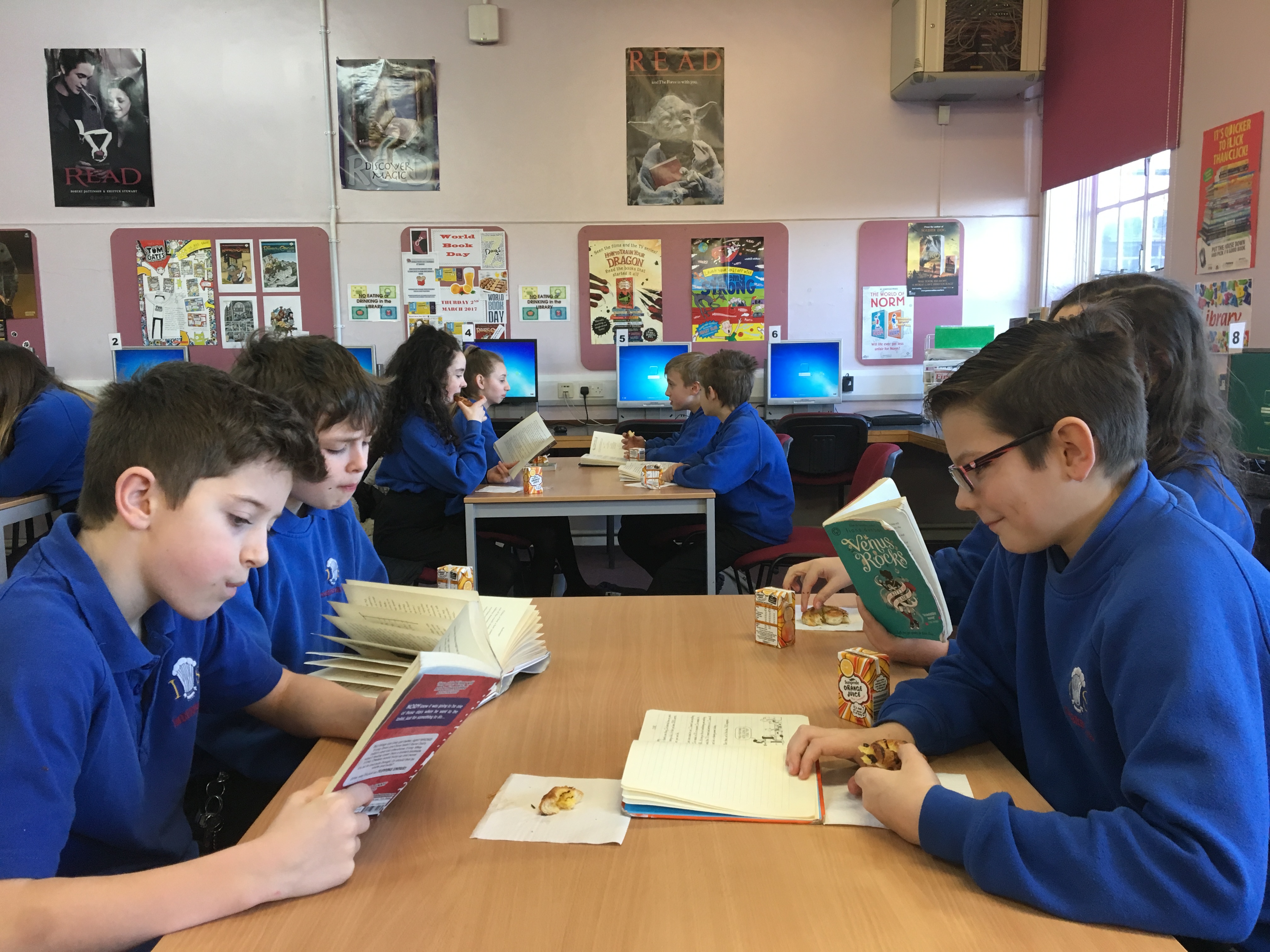 Post date:
Friday 3rd March 2017 - 10:10
World Book Day on Thursday 2nd March at Imberhorne School was a real page-turner this year! Now in its 20th Year, World Book Day, provides us with an opportunity to inspire and celebrate the world of literature. Every year, in over 100 countries around the world, children of all ages come together to explore, and to be encouraged, by the pleasure that reading offers. And Imberhorne was no different, a whole agenda was pulled together by our English Department to celebrate authors, illustrators and reading.
Beginning the day with a continental feel, students were invited to begin or strengthen their love of reading with a pastry and orange juice; before having the opportunity to enjoy talks from visiting authors Eve Ainsworth and Garen Ewing.
Eve is an award winning teen author, whose third book 'Damage' is about to be published following on from the success of 'Seven Days' (2015) and 'Crush' (2016). Eve's novels tackle topical issues that maybe experienced by teens, providing an emotionally evocative platform for advice, understanding and encouragement to seek help.
Garen Ewing is a freelance illustrator whose passion lays with children's illustrations 'whether that's drawings for children or about children'. Another area of Garen's work saw him, commissioned by JCDecaux, in 2015, to create a comic strip that would appear daily on their digital screens across the UK in the run-up to Christmas. You may have seen this on your travels. However, your children may know him from his graphic adventure series 'The Rainbow Orchid' in which the character of Julius Chancer takes on a quest to discover the lost Rainbow Orchid.
Both Eve and Garen met with Years 7 and 9 to talk about writing and illustrating, from their inspirations to the process of writing.
Eve talked us through from her childhood as a little girl running around the garden telling her dog her tales, to her work with children in secondary school and how these experiences shape the writing process and the narratives that we read in her books. Year 9's learnt how taking notes and jotting down ideas from everyday events and even names of the people they meet can inspire a story. A valuable lesson for all that listened was how Eve experimented with different styles of writing before eventually being published, and how she remained determined to be a writer despite rejections from publishers and even teachers that told her that she needed to think of a more realistic career.
Garen, once a student at Imberhorne School, explained the process of his creation 'The Rainbow Orchid', telling us how the process is far more involved than just a collection of doodles. One of his comic books can take 2-3 years to make: from the initial drafts, character development, lists, research, models, then the move from paper to computer, to the eventual polished version that reaches our hands. Garen's advice to any budding illustrators was to keep practicing. He admitted that drawing cars and animals were a weakness for him, but with lots of practice he overcame his difficulties and now draws elephants in all sorts of situations.
And amongst the talks, questions and answers, students had the opportunity to have their copies of Eve's and Garen's fabulous books signed.
Hopefully today will have inspired students to enjoy the experiences that literature has to offer and maybe even encourage the illustrator or writer inside to explore what the world of books has to offer.