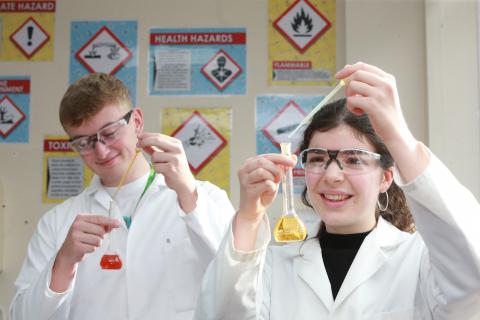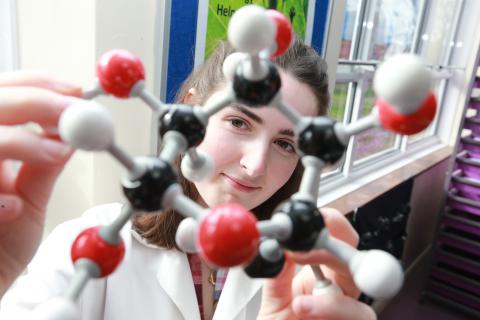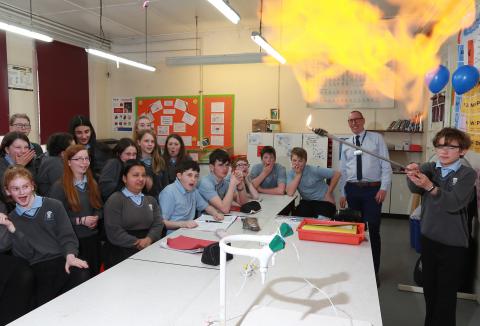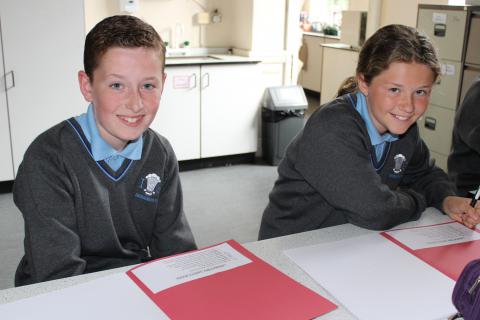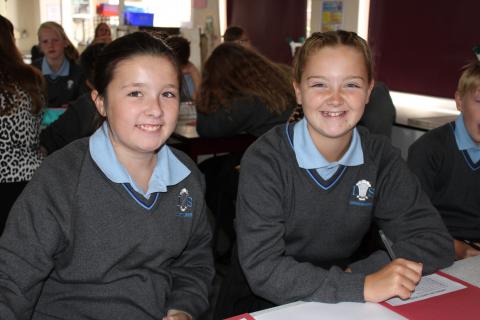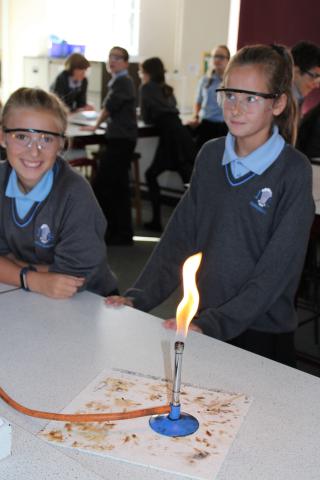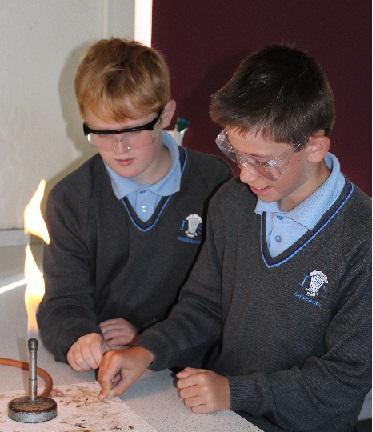 Through our Science lessons we intend all students to progress in their understanding of the world they live in and the scientific implications of our actions. In all areas and for all ages we loan students revision guides and/or textbooks which we intend to be taken home to support revision and other homework tasks.
Between years 7-11 all students will study equal amounts of Biology, Chemistry and Physics. We set by ability in Year 9 onwards and monitor progress so we can consider carefully any moves between sets. 
Triple Science GCSE is taught with an additional weekly "twilight lesson" from 3pm to 5pm. Experience shows us it is best suited to the most able scientists who have a love of hard work!
Sixth Form students studying science courses will need to complete at least four hours per week of work outside of lessons to be able to succeed on each course.
Curriculum Intent

A high-quality science education provides the foundations for understanding the world through the specific disciplines of biology, chemistry and physics. Science has changed our lives and is vital to the world's future prosperity, and all students should be taught essential aspects of the knowledge, methods, processes and uses of science. Through building up a body of key foundational knowledge and concepts, students should be encouraged to recognise the power of rational explanation and develop a sense of excitement and curiosity about natural phenomena. They should be encouraged to understand how science can be used to explain what is occurring, predict how things will behave, and analyse causes.

The national curriculum for science aims to ensure that all students:

develop scientific knowledge and conceptual understanding through the specific disciplines of biology, chemistry and physics
develop understanding of the nature, processes and methods of science through different types of science enquiries that help them to answer scientific questions about the world around them
are equipped with the scientific knowledge required to understand the uses and implications of science, today and for the future.

In addition to this in our teaching of science we plan and aim to develop resilience, tolerance, compassion and a wider view of how science impacts on society and our culture. As part of a whole curriculum we particularly develop the critical thinking, collaboration and communication areas of Character Education.

Scientific knowledge and conceptual understanding

The programmes of study describe a sequence of knowledge and concepts. While it is important that students make progress, it is also vitally important that they develop secure understanding of each key block of knowledge and concepts in order to progress to the next stage. Insecure, superficial understanding will not allow genuine progression: students may struggle at key points of transition (such as between primary and secondary school), build up serious misconceptions, and/or have significant difficulties in understanding higher-order content.

Students should be able to describe associated processes and key characteristics in common language, but they should also be familiar with, and use, technical terminology accurately and precisely. They should build up an extended specialist vocabulary.

They should also apply their mathematical knowledge to their understanding of science, including collecting, presenting and analysing data. The social and economic implications of science are important but, generally, they are taught most appropriately within the wider school curriculum: teachers will wish to use different contexts to maximise their students' engagement with and motivation to study science.

The nature, processes and methods of science

'Working scientifically' refers to the understanding of the nature, processes and methods of science. We do not teach it as a separate strand but integrate its features into all our work, focusing on the key features of scientific enquiry, so that students learn to use a variety of approaches to answer relevant scientific questions. These types of scientific enquiry include: observing over time; pattern seeking; identifying, classifying and grouping; comparative and fair testing (controlled investigations); and researching using secondary sources. Students seek answers to questions through collecting, analysing and presenting data. 'Working scientifically' is developed across key stages 3 and 4, once students have built up sufficient understanding of science to engage meaningfully in more sophisticated discussion of experimental design and control.

Spoken language- Oracy

The national curriculum for science reflects the importance of spoken language in students' development across the whole curriculum – cognitively, socially and linguistically. The quality and variety of language that students hear and speak are key factors in developing their scientific vocabulary and articulating scientific concepts clearly and precisely. They must be assisted in making their thinking clear, both to themselves and others, and as teachers we endeavour to ensure that students build secure foundations by using discussion to probe and remedy misconceptions. Our departmental reading strategy links our overview to ongoing developments within science.

School Curriculum

Within each key stage, schools have the flexibility to introduce content earlier or later than set out in the programme of study. In addition, schools can introduce key stage content during an earlier key stage if appropriate; we start our delivery of KS4 content within KS3. All schools are required to set out their school curriculum for science on a year-by-year basis and we have made this information available online. Within KS4 we follow the AQA specification and our descriptions of the GCSE curriculum match the defined structures of the AQA courses we deliver.

Our plans include deliberate spiralling to reinforce and then extend concepts. We also work with local primary schools to share best practice and better understand KS2 to 3 transition.
Staff Information
Name
Position / Responsibility
E-Mail
Mrs S Watson
Leader of Science

swatson

[at] imberhorne

[dot]

co

[dot]

uk
Mr G Crees
Science Teacher & Head of Sixth Form

gcrees

[at] imberhorne

[dot]

co

[dot]

uk
Mrs F Warran
Leader of Biology

fwarran

[at] imberhorne

[dot]

co

[dot]

uk
Miss A Singleton
Leader of Physics and Sixth Form Careers Coordinator

asingleton

[at] imberhorne

[dot]

co

[dot]

uk
Mr R Langstone
Science Teacher & Head of Year 11

rlangstone

[at] imberhorne

[dot]

co

[dot]

uk
Mrs C Price
Acting KS3 Science Coordinator (2021/2022) and Vulnerable Student Lead

cprice

[at] imberhorne

[dot]

co

[dot]

uk
Mrs S Collyer
Science Teacher & Leader of Health & Social Care

scollyer

[at] imberhorne

[dot]

co

[dot]

uk
Mr S Moore
Leader of Chemistry

smoore

[at] imberhorne

[dot]

co

[dot]

uk
Miss K Wood
Science Teacher and KS2/3 Transition Coordinator

kwood

[at] imberhorne

[dot]

co

[dot]

uk
Dr R Eveleigh
Science Teacher and Vocational Lead for Science

reveleigh

[at] imberhorne

[dot]

co

[dot]

uk
Miss K Breen
Science Teacher

kbreen

[at] imberhorne

[dot]

co

[dot]

uk
Dr S Bentley
Science Teacher

sbentley

[at] imberhorne

[dot]

co

[dot]

uk
Miss L Swain
Science & PE Teacher

lswain

[at] imberhorne

[dot]

co

[dot]

uk
Mrs E Forbes-Turner
Leader of Psychology

eforbesturner

[at] imberhorne

[dot]

co

[dot]

uk
Mrs R Warburton
Psychology Teacher

rwarburton

[at] imberhorne

[dot]

co

[dot]

uk
Mrs R Pacey
Science Teacher

rpacey

[at] imberhorne

[dot]

co

[dot]

uk
Mrs N Hughes
Science & PE Teacher, BTEC Level 3 Sport Lead

nhughes

[at] imberhorne

[dot]

co

[dot]

uk