GCSE Revision
Our personalised  'Revision Guide', issued to all Year 11 students during February, is essential for GCSE revision support. A general GCSE revision guide, covering all subjects is also on this page. We have also included a revision powerpoint with useful tips for all students and a blank revision timetable to print and use too.
Remember to speak with individual subject teachers about any GCSE resources specific to subjects. Please use the student folders on the school network for revision resources too. There are lots! GCSE 
Revision session  details are posted on this page to further support preparation for GCSE exams. Please check the page regularly for updates.
For Summer exams and Autumn/Spring term mock exam timetables please visit our 'Exams' page in the 'Dates' section or click here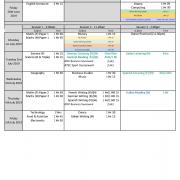 Year 10 Exam Timetable 2019
Calm Countdown to Exam Success
#1  Sleep well! If you don't have a regular bedtime, get one. Get at least 8 hours. If you sleep right – you think right. Try to switch off devices 1 hour before sleep. Associate your bed with where you sleep NOT where you lie down and revise. This will help you sleep well.
#2  Flashcards. When revising, many students spend hours re-reading their notes and highlighting the most important phrases, but Flashcards are far more useful. Write questions/key ideas/themes/quotes. Get them ready asap. Test yourself or ask family/friends to. Mix up the topics when testing yourself or you may get stuck recalling the same information on autopilot.
#3  Mock papers really do help - a chance to practise & train IS ALWAYS a good thing. Mocks will increase your belief that 'you can do it' & provide you with the opportunity to ask for help where you need it.
#4  Lacking motivation? Try to think about what the effort is for, why you are revising, why you are learning. If you keep coming back to why you are doing something - what the end game is, it's amazing how you find the drive to keep going.
#5  Now is the time! 1 hour a day over 8 days is far more effective than 8 hours in 1 day when it comes to exam preparation. Please start now, leaving it until the last minute doesn't get the best outcomes.
#6  Is getting started a problem? Try to think of your first step as a choice or challenge...rather than a sacrifice. If you have the mindset that you are 'choosing' to get started - you will feel more positive and in control. Netflix & Xbox will still be there after your revision session and at the end of exams.
#7  Drawing can boost revision. The simple act of drawing can help us to remember words and definitions. Try creating a drawing from a word or definition you must remember. You may get a stronger memory trace for recall in your exams.
#8  Share the workload, write notes with friends. Maybe take a topic each and photocopy to save time. Test each other - research shows this is good for information retrieval. Be careful to choose the right study partners though...you know who they will be. Extra distractions are not helpful!